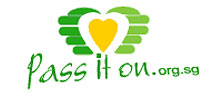 LATEST WISH LIST








About Us
ABOUT US
The project seeks to provide a meaningful way to distribute unwanted, albeit useful items to benefit the needy (home appliances, home furniture, medical aids, mobility aids, learning aids & etc). With
Pass-It-On
, your used item can be given a new lease of life, and to better the life of needy!
Pass-It-On
connects General Public to the needy via Voluntary Welfare Organizations (VWOs).
Pass-It-On
provides a web platform by channelling the donated items to the needy under the VWOs (for examples, Family Service Centres and Senior Citizen Centres) care. Anyone, within Singapore, can donate, as long as the items are useful and of good working condition.
VWOs registered with
Pass-It-On
can request items on "Wish List". General Public can fulfil needy wishes by donating the requested items. Alternatively, General Public can post them on
Pass-It-On
website. The donated items will be made available to all registered VWOs, who shall reserve the donated items if find suitable for their needy clients. VWOs shall arrange collection of the donated items directly with the donor.
Click
here
for list of VWOs registered with
Pass-It-On
.
Alternative sites to pass on items: You can contact
http://www.salvationarmy.org/singapore/dik_fts
to give away used items or list the items up on Facebook Pages like
http://sgfreecycle.org/
or
https://www.facebook.com/groups/iamfreecycle/
.