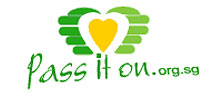 LATEST WISH LIST








Donate Item
Donate Item
Thank in advance for your generosity and kind support:
Please ensure your donated item is in good working condition as the needy cannot afford the repair or refurbish cost.
Pass-It-On does not collect the donated item. We do not perform removal service and have no storage space.
If Voluntary Welfare Organization (VWO) find your donated item suitable for the needy under their care, shall reserve and contact you to arrange for collection.
Please specify a valid till date for your donated item. Thereafter your donated item shall be removed from the website and become unavailable to VWOs.
If you have multiple items to donate, please fill up and submit the below form for each item.
Personal Particulars