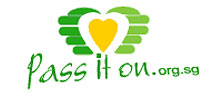 LATEST WISH LIST








Terms of Service
Terms And Conditions
Welcome to Pass It On! Pass It On provides its service to you, subject to the following Terms of Service ("TOS"), which may be updated by us from time to time without notice to you. You can review the most current version of the TOS at any time at our website. In addition, you and Pass It On may be subject to any posted guidelines or rules applicable to such a service, which may be posted from time to time. All such guidelines or rules are hereby incorporated by reference into the TOS.
Member Account, Password & Security
You have received a password and account designation. You, as an organisation, are responsible for maintaining the confidentiality of the password and account, and are fully responsible for all activities that occur under your password or account. You agree to (a) immediately notify Pass It On of any unauthorized use of your password or account or any other breach of security, and (b) ensure that you exit from your account at the end of each session. Pass It On cannot and will not be liable for any loss or damage arising from your failure to comply with this Term.
Disclaimer of Warranty
You also expressly understand and agree that your use of the service provided by Pass It On is at your sole risk. The service and the items made available on the website are provided on an "AS IS" and "AS AVAILABLE" basis. Pass It On expressly disclaims all warranties of any kind, whether express or implied, including, but not limited to the implied warranties of merchantability, fitness for a particular purpose and non-infringement. You are advised to take your own steps to ensure the suitability and safety of the donated items.
Privacy Policy
Please click here for our privacy policy.