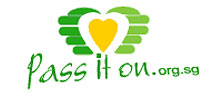 LATEST WISH LIST








Contact Us
CONTACT US
To sign up with us as a donor or organisation, please click
here
.
If you wish to contact us, our contact information is as follows.
Alternatively, you could fill in the form at the bottom of the page to reach us.
Pass It On
The Helping Hand
819 Upper Serangoon Road
Singapore 534678

DID: +65 67184086
Mobile: +65-85119160 (Ms. Gina Ang)
Fax: +65-62833748
Email: passiton@thehelpinghand.org.sg
Please call during:
Mondays to Fridays Only - 9am to 5pm, Except Public Holidays
*PLEASE NOTE THAT PASS-IT-ON DOES NOT TAKE IN ANY DONATED ITEMS
& GIVE THEM TO THE NEEDY ON BEHALF OF DONORS.
There are more than 200 organisations registered with us here representing
their needy clients. These organisations will liaise with you to pass the items
directly to the needy people. Please take some time to read our FAQs.