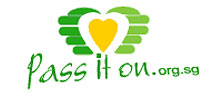 LATEST WISH LIST








Sign Up
Sign Up
Donors
Pass-It-On is a non-profit project that seeks to provide a meaningful way to distribute unwanted, albeit useful items to benefit the needy.
Click
here
to sign up as a Donor so that your particulars can be autofilled when donating new items.
Organisations
If your organisation is not listed in the List of Voluntary Welfare Organisation, we welcome you to join us!
You would be entitled to view and reserve items donated for your clients
How does Pass-It-On help VWOs and those in need?
Pass-It-On reduces the times it takes to search for a donated item and it helps the VWO save on costs by cutting down on purchases for these items. The process is efficient, effective, fuss-free and fulfilling for both donors and beneficiaries / recipients.
A case in point:
A social worker has been following up with a low-income family. Mdm Nasir's husband was recently admitted to the hospital and their only daughter is intellectually disabled. The one-bedroom flat they live in is rented and sparsely-decorated. Knowing that her daughter requires constant attention, the social worker requested for a washing machine through the Pass-It-On website to free Mdm Nasir from household chores to allow her to focus on caring for her daughter. A donor saw the need and liaised with the social worker who engaged The Helping Hand to deliver the item at a subsidized rate.
If you wish to join us, please download the
registration form
and a
letter of undertaking
form that must be completed by each user seeking to be registered with us. If your organisation is already listed on our website and you are a new user, kindly fill up the 'Letter of Undertaking' form only.
We will promptly process your application as soon as the completed documents are received. An auto-generated email containing the login details will be sent to each user thereafter. Please check the spam folder in case the email lands there. Thank you.
Attn: The Person-in-Charge
Pass It On
The Helping Hand
819 Upper Serangoon Road
Singapore 534678
If you have any enquiries, please contact Gina Ang
Mobile: +65-85119160
Email:
passiton@thehelphand.org
Website:
http://www.thehelpinghand.org.sg
Please call during:
Mondays to Fridays - 9am to 5pm
Except Saturdays/Sundays & Public Holidays