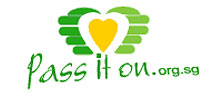 TESTIMONIES
It was in April this year that I sought help from As-Salaam Family Service Centre for used household items. I was then introduced to Pass It On by my family counselor. Only then did my...
Mdm D (35 years old)
(see more)

Profile

Create Profile
Please note that the information provided here will help to facilitate the entire collection & delivery process.