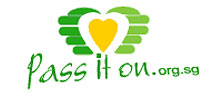 LATEST WISH LIST








Grant A Wish
Grant a Wish
Thank in advance for your generosity and responding to our VWO's wish list:
Please ensure your donated item is in good working condition as the needy cannot afford the repair or refurbish cost.
Pass-It-On does not collect the donated item. We do not perform removal service and have no storage space.
Please specify a valid till date. VWO shall contact you to arrange for collection before the specify date.
Personal Particulars